Paragraph
There is an old saying" You wouldn't buy a Mini to tow a 40-foot caravan".
Making the correct decision when choosing a new Pressure Cleaner will enable you to clean more effectively saving your company valuable time and money.
There also needs to be consideration with the supplier as to their service and spare parts capabilities, and not having to wait weeks on end for that one part that is holding your entire cleaning operation to ransom.
We would like to assist you choosing your new Pressure Cleaner with recommendations for the following industries.
In this guide we offer suggestions for the following industries:
Image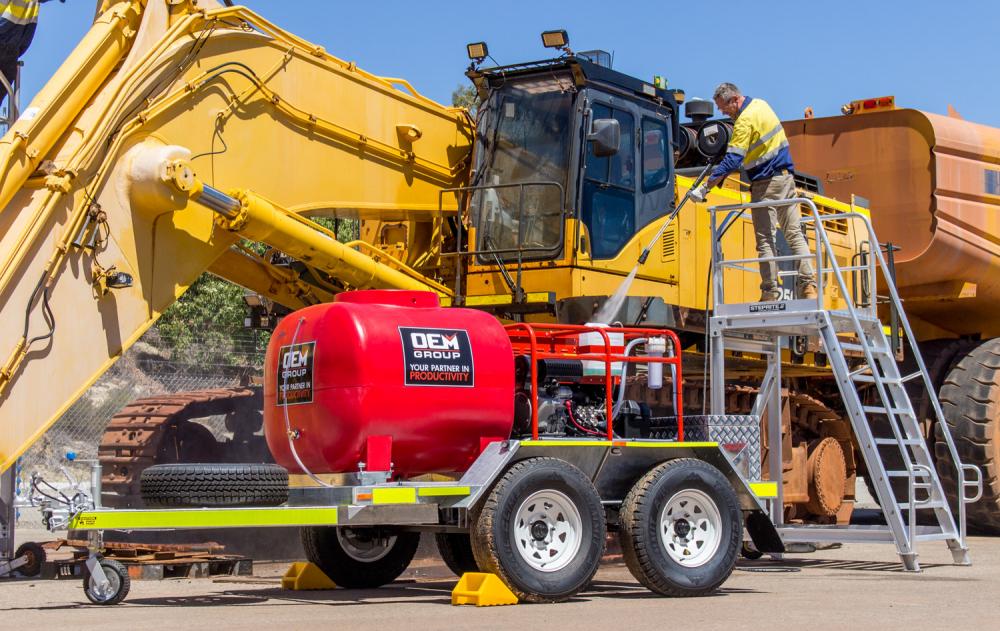 EARTHMOVING
3 Phase Electric, Diesel or Petrol Powered
15 - 21 Litres Per Minute
3000 - 3650 PSI
Hot or Cold Water
Normally these units would be in a workshop environment and will have access to mains water supply and power, in which circumstance a good recommendation would be a 3 Phase Electric pressure cleaner, as these are generally more economical to run, with the lower maintenance costs associated with an electric motor.
However, Petrol or Diesel power with a water tank, often prove necessary outside the workshop environment because there is no reliance on a fixed power or water supply.
Depending on where the earthmoving equipment has been working, in the mining regions for example, it's advisable to purchase a Pressure Cleaner that will deliver a high water flow, or LPM (litres per minute).
As a rule a higher flow rate will wash away dirt much faster, the amount of dirt and mud that accumulate with earthmoving equipment often requires a very high flow rate. Recommended is 15 – 21 LPM, with 15 being the minimum and 21 LPM being ideal.
The built up mud and grime can also require a slightly higher pressure to remove so we recommend a higher range of 3000 as the recommended and 3650 PSI as the highest necessary in most cases.
A regular cleaning schedule will help keep expensive refurbishment costs down with your earthmoving equipment saving your company valuable time and money.
Cold water is often all that is necessary for removal of mud and dirt, however a hot water machine can drastically reduce cleaning times when removal oil, grease or other oily grime
Image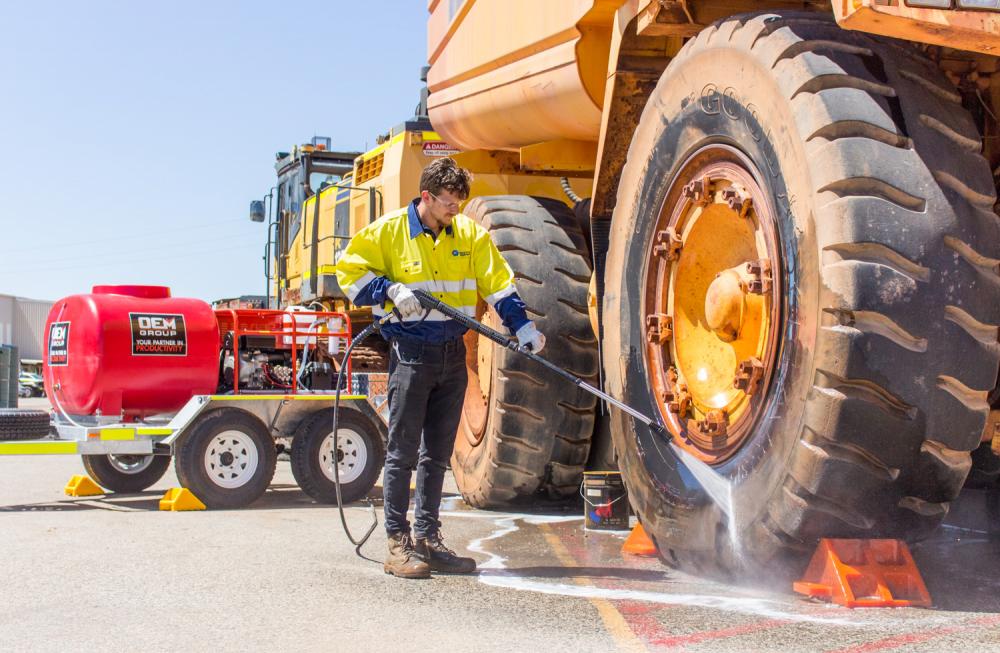 MINING
3 Phase Electric and Diesel Powered
3000 - 5000 PSI
15 - 30 LPM
Hot and Cold Water
The chosen Pressure Cleaners for the mining industry normally have a high flow rate, once again to eradicate salt and red mud, with most units being 3 phase electric or diesel powered as petrol is not being allowed on most mine sites.
Recommended would be 15LPM at a minimum and 21LPM being ideal for similar reasons to earthmoving industry requirements.
3000 PSI is an ideal range for most mine sites and 5000 PSI being useful in extreme cases, such as sites with a very high level of salt.
The demand on mining sites are a higher PSI rating to complement high litre per minute pumps, with scheduled cleaning, this will effectively maintain expensive mining equipment and can keep massive costs on refurbishment down.
Cold water pressure cleaners will remove most mud and grime, but using a hot water pressure cleaner will clean grease and oily surfaces.
Another popular unit with the mining industry is a trailer mounted diesel hot water unit complete with a 1000L/T water tank that can be towed with ease behind a service 4x4 or truck. A good example of this would be OEM Group's Hottie V trailer.
Image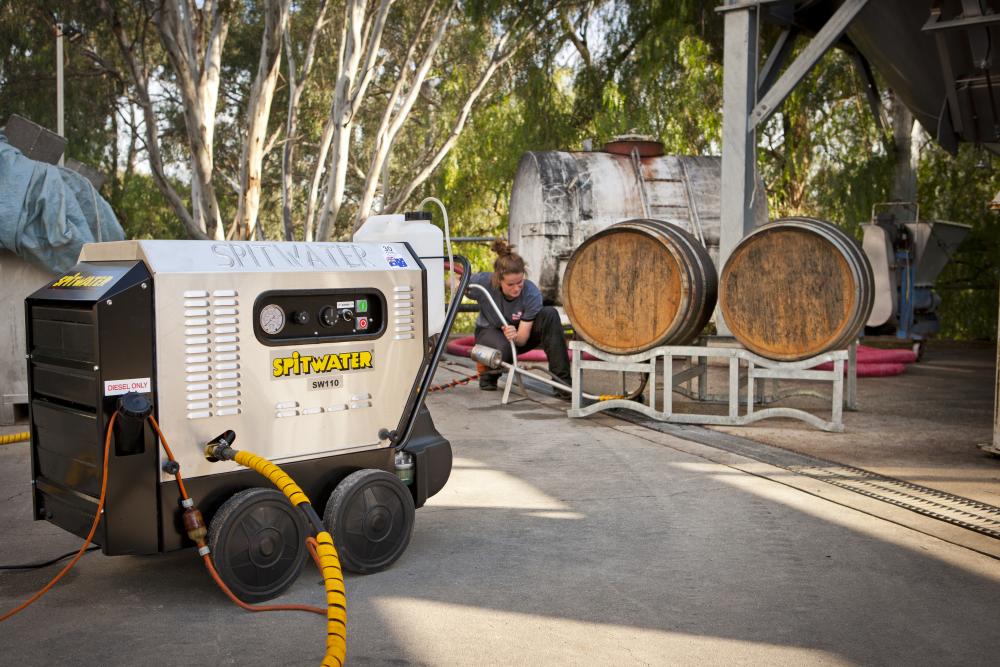 FOOD
Electric Powered
1800 - 3000 PSI
10 - 15 LPM
Hot Water
The food industry pressure cleaning requirements can differ from a 15-amp electric single-phase   hot water pressure cleaner to a larger three phase pressure cleaner depending on the application.
A small process operation may only require a smaller hot water pressure cleaner to clean walls bench top and floors requiring a lower PSI and flow rate, alternatively a much larger operation will be requiring a larger pressure cleaner to complete the job in a more effective time frame.
The amperage of the machine generally increasing as the PSI and flow do.
Suitably 10LPM would be ideal for a smaller process room, were as 15LPM would be recommended for a large process room, being able to work at a far quicker rate.
In the food industry electric powered hot water pressure cleaners are the most common as the government regulations on sterilisation are stringent and closely monitored.
Image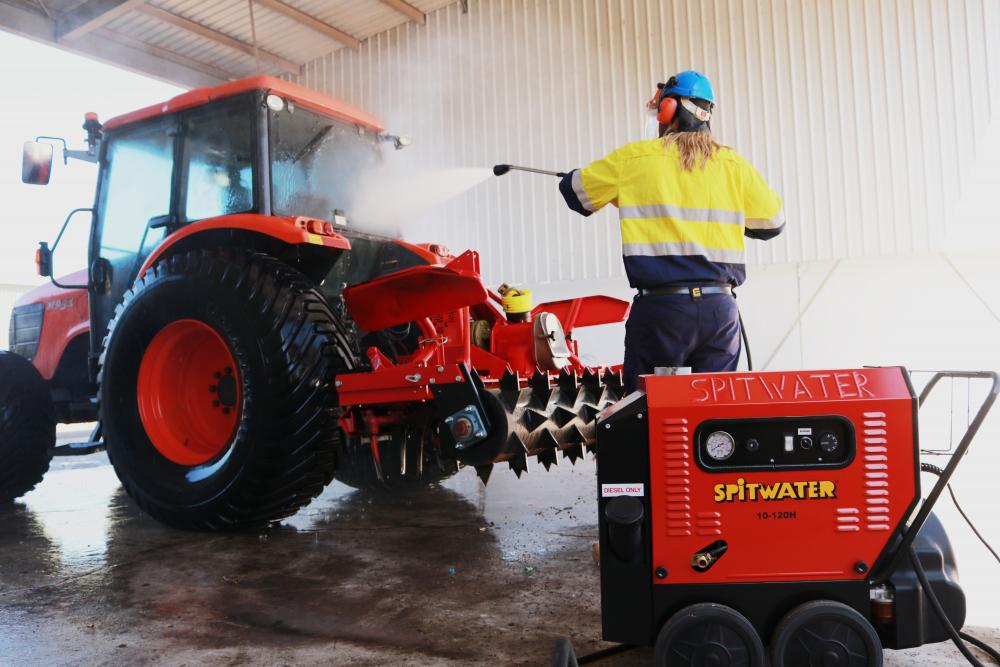 FARMING & AGRICULTURE
Single and 3 Phase Electric, Petrol and Diesel Powered
1800 - 3650 PSI
10 - 21 LPM
Hot and Cold Water
A large range of pressure cleaners will suit this industry, once again depending on your application, we have found over the years the hot water machines are becoming more popular.
Smaller hot water single phase electric pressure cleaners are fantastic when dissolving fertilisers off farming equipment, keeping your cleaning chemical requirements to a minimum.
Another method for this application would be a petrol or diesel powered cold-water pressure cleaner coupled to a Hot Box. This combination will give you a greater performing system, to achieve the same results in electric a 3-phase pressure cleaner would be adopted.
Recommendations for pressure cleaners in this industry are a minimum of 10LPM and Ideal being 15 -21LPM as any less than this tends to make cleaning take significantly longer.
A 1800 PSI would be ample to combat the build-up of dirt and grime around the homestead and workshop, but in the paddocks a 3000 – 3650 PSI would be ideal given the harsher conditions.
These pressure cleaners can be used off the homestead mains or in the paddocks with a portable water supply.
Agricultural equipment is expensive so regular cleaning can prevent chemical build-up and assist with keeping maintenance costs at a minimum.
Image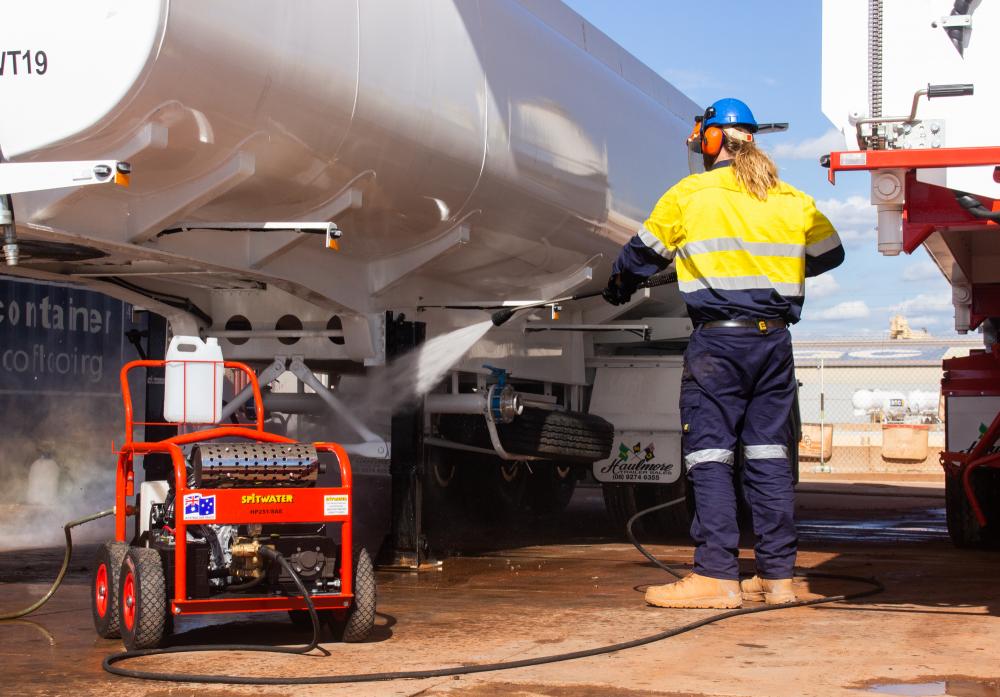 TRANSPORT
Single and 3 Phase Electric
1800 - 3000 PSI
10 - 15 LPM
Hot and Cold Water
The transport industry can range from a single operator that would clean their truck weekly or to a national company who would most likely to have a wash bay in operation.
 A sharp clean truck on the road has many benefits, two of those are the pride of the name that is advertised on the truck and secondly a clean truck also helps keeps the unwanted highway patrol off your tail.
Care is required not to use too heavier PSI and LPM rated pressure cleaners as sign writing and re-spraying your prime mover can be expensive.
A pressure cleaner with a higher flow rate will wash away the mud and road grime quicker allowing you to be on the road faster, we recommend 10LPM for a single operator, and for a fleet of trucks we recommend 15LPM as it speeds up the cleaning process.
PSI recommendations are 1800PSI single operators and 3000PSI for fleet care for the same reason as above.
Hot Water pressure cleaners will eradicate road grime and dust quicker than a Cold-Water pressure cleaner with less chemical being required.
In addition, you can use a Single-Phase Hot Box that will couple to a cold-water pressure cleaner giving you hot water cleaning when required.
WHERE TO FROM HERE?
There are a lot of considerations when purchasing a pressure cleaner.
With over 40 models available  OEM Group have Australian made SPITWATER Pressure Cleaners that are made for every industry that will suit your needs, with the knowledge of our sales team and the backup of our service and Spare parts we can advise you to make the correct decision truly making us YOUR PARTNERS IN PRODUCTIVITY.
Feel free to call us for more assistance on (08) 9270 0200 or email us at contactoem@oemgroup.com.au