Pressure Cleaner Servicing & Repair
OEM Group offers servicing and repairs for pressure cleaners and jetters of all brands, including SPITWATER, Karcher, Gerni, Nilfisk, Kranzle, BAR, Aussie Pumps, Thoroughclean and many more. We also offer servicing and repairs for all brands of Space heaters and Industrial vacuums.
Why Choose OEM Group?

SATISFACTION GUARANTEE
OEM Group offers a Satisfaction Guarantee on their Pressure Cleaner, Industrial Vacuum, and Space Heater servicing and repairs.

COMPETITIVE PRICES
OEM Group offers competitive pricing compared to other reputable Pressure Cleaners servicing companies in Perth. We tailor make preventative maintenance agreements to suit your business

SERVICE & REPAIR ALL BRANDS
Our team of expert technicians service all brands of pressure cleaners and jetters, as well as Space Heaters and Industrial Vacuums.

MOBILE SERVICE TEAM
Our mobile service team carries a huge range of parts so maintenance can be performed on-site at your convenience.

LARGE RANGE OF PARTS & ACCESSORIES
Our Perth Showroom stocks a huge range of genuine high quality parts and accessories to suit most machines.

HIRE UNITS & RENTAL AGREEMENTS
If you require a temporary machine while your pressure cleaner is being serviced, we have a range of SPITWATER Pressure Cleaners in our hire fleet of various sizes and models.
OPTIMISING PRODUCTIVTY
Our mission is to improve your on-site productivity. We have designed our servicing and maintenance agreements specifically to reduce your equipments downtime and prevent potentially costly repairs. No need to book your service - we calculate how often your machine requires servicing and will contact you to schedule routine maintenance to ensure your pressure cleaner is always at its peak performance.
READY & MOBILE
Our team of expert technicians can service your pressure cleaner, space heater or industrial vacuum onsite or at our workshops in Perth or our new location in Karratha. Our mobile road service technicians also carry a huge range of pressure cleaner parts so maintenance can be performed entirely onsite for your convenience, and to reduce your downtime. If you require a temporary pressure cleaner during your service, several SPITWATER pressure cleaners of various sizes and models are avialable for hire.
WA WIDE
Our Perth showroom and workshop are located just 9km out of the Perth CBD and we are very excited to launch our new facility in Karratha. We also have several distributors available across Western Australia to assist you in your servicing and repair needs.
Your Local Pressure Cleaner Experts
For more information on our Pressure Cleaner service & repairs, contact us online or call us now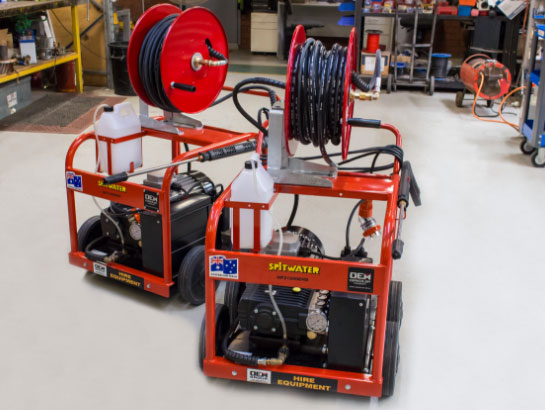 Hire Pressure Cleaners
With incredibly affordable and flexible rental terms, we offer a huge choice of SPITWATER Pressure Cleaners for hire.
Over 80% of our hire units are brand new to give you and your business the latest and greatest pressure cleaning technology.
With our industrial experience, custom focus and in-house maintenance expertise, we provide the highest quality hire products in WA.