Paragraph
Image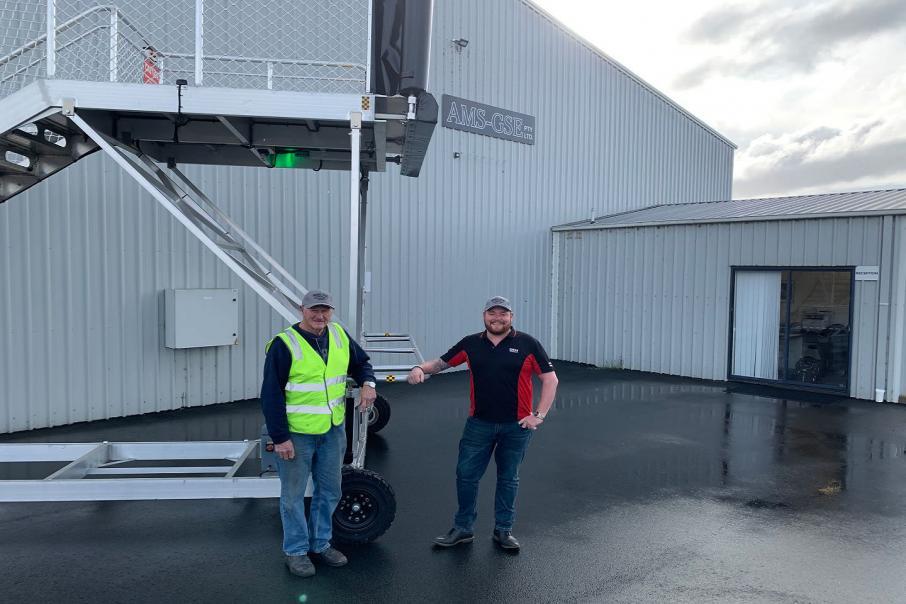 Perth industrial fabricators and manufacturers OEM Group has recently finalised a bold expansion, acquiring a global supplier of ground support equipment formerly based in Tasmania.
With offices in Perth and Karratha, OEM Group supplies the agricultural, commercial, defence, government, industrial, marine, mining, oil & gas, transport and aviation sectors with a wide range of manufactured products and services that includes high pressure cleaners, industrial vacuums and heaters. It also supplies industrial equipment like safety access work platforms, safety jacking stands and other engineered custom solutions that have been fabricated to a clients' specifications. 
CEO Vincent Allegre said it's been involved in manufacturing maintenance access platforms for the aviation industry for airlines throughout Australia. He says that makes the acquisition of the Tasmanian based company AMS GSE a natural extension for OEM Group, significantly expanding its aviation component.    
AMS GSE had been long regarded as an innovator in the ground support equipment (GSE) space with its bespoke manufactured product range having patented designs specialising in manufacturing aircraft passenger access boarding stairs (fixed and self-levelling), assisted passenger access lifts (DPL's), baggage trollies and de-icing units.
The Tasmanian workshop has now been closed and moved to Perth in August 2021. The acquisition has created four additional jobs locally and Mr Allegre says he expects that number to grow in the future.
He also said the newly expanded aviation department is doing very well – with orders already exceeding budgeted projections in the first few months for local operations.
The purchase was a high-risk move, particularly in the shadow of COVID-19 which severely restricted the activities of many aviation companies globally.  
However, the CEO says OEM Group has its sights firmly fixed on planning into the future, and beyond the COVID-19 travel limitations.    
"We were aware AMS GSE was a specialist in designing and the manufacturing of passenger access stairs for aviation, as well as other ground support equipment," Mr Allegre says.
 "At the end of last year, we decided buying the company was a risk we wanted to take and an investment we wanted to make; to buy a company that is a specialist in the aviation business, knowing that aviation would open up again soon". 
"It is an opportunity to do something different in the aviation sector."
It's not the first time the company has made bold strategic moves aimed at overcoming the dilemma many WA businesses face of having 'too many of its eggs in the one basket', the basket being the mining sector.
The initial move into aviation making maintenance access platforms and stands more than a decade ago, was another one. 
"Having existing clients and relationships in the aviation industry was a way of opening up and sharing the risk – so if perhaps mining didn't go well the next year, we have the advantage of a more diverse client portfolio," Mr Allegre says.
The company recently expanded its operations by opening an office in Karratha and is poised to market its aviation products more widely internationally, using the strength of its exceptional marketing and business development team. 
Group Business Development Manager Ryan de Mol says OEM Group previously marketed its products nationally. However, with the acquisition of the new business the company now works in the USA, Japan, Maldives and Iceland.
"Relationships, the quality of our product, the intellectual property and drawings we now own for these unique products – these are the key to our competitive edge," he says.
"This recent acquisition helps grow OEM Group's footprint, workforce, product line and most importantly shows our clients that we don't just rely on one income or revenue stream; we're a nimble, innovative and diverse business that can agilely move around in different markets to suit current market trends."
 "The acquisition is growing our reputation not just nationally but also internationally and shows us to be a stable business with a solid foundation and the ability to develop further in the future."   
Mr Allegre says it's a very exciting time for the company with its mandate of growing the business in a sustainable manner.
"And that's something we are doing as we speak," he says.
Written by Kerry Faulkner.
OEM Group's Contact Details:
Phone: (08) 9270 0200
Email: contactoem@oemgroup.com.au