Paragraph
Ladders are very widely used in our everyday lives -  in the home, the yard, at your workplace, and on work sites.
There is always an element of risk involved when using a ladder to perform your necessary work / jobs.
Different types of ladders have different levels of functionality and also varying levels of safety - depending on their use.
Step Ladders 
Low height reach, good safety when used correctly.
 
A Frame Ladders 
Moderate height reach, the most commonly used and again good safety if used correctly.
 
Extension Ladders 
Higher reach capability, lower stability - opportunity for sideways movement.
 
Access Platform Ladders 
Used to work safely for extended periods at height. Used more frequently in a business application. Can vary in height and platform size to suit the work required.
So, how to choose an access platform ladder?
In this guide, we will explore: 
Image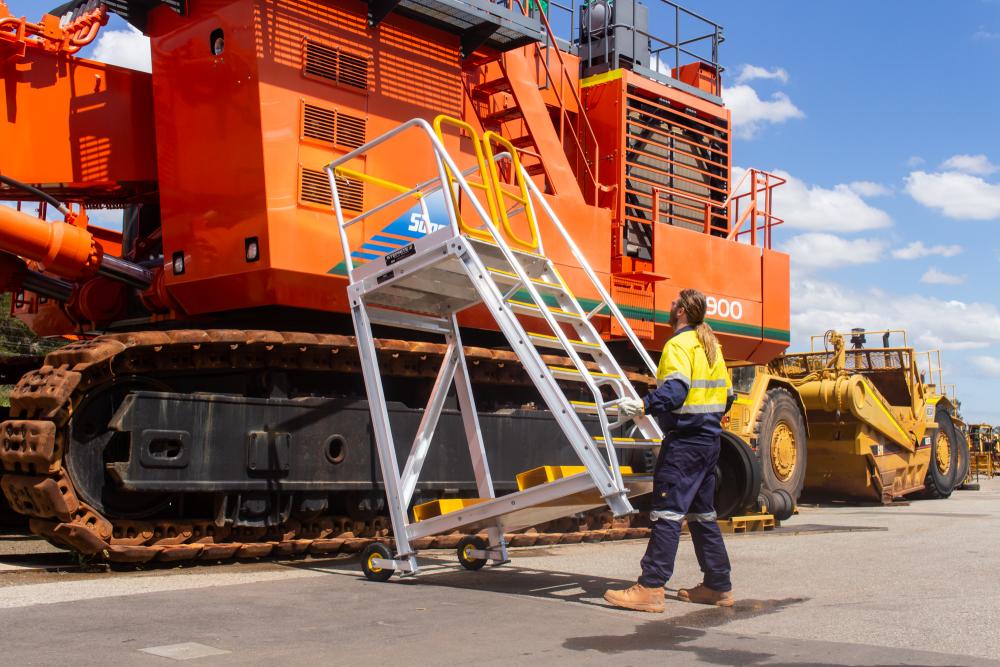 WHY USE AN ACCESS PLATFORM LADDER?
An access platform ladder is used when you need to perform your work at height in a safer manner, or for a more extended period. Depending on their construction they tend to be far more stable and are far easier to use than the alternatives.
It is more substational than just using a standard ladder. They provide a flat, sturdy, platform surface to stand on whilst working. They often have a whole series of other safety features from handrails to anti-slip, and are generally designed for portability, whilst not incurring heavy lifting.
Performing work for extended periods on a standard ladder can be difficult and unsafe, especially when tools and other materials are involved. This is where Safety Access Platforms Shine.
APPLICATIONS & BUDGET
There are many types of Access Platform Ladders on the market. Generally they are designed for specific work applications and budgets.
The quality and performance therefore vary's considerably, ranging from low quality, cheaper plastic platform ladders, to top of the range structural aluminum safety access platform models. The features and benefits of these therefore vary considerably. 
They generally fit into one of three categories.
Basic - Light gauge, plastic and foldable.
 
Light Duty - fixed frame, light gauge - used predominantly for order picking.
 
Heavy Duty - Fixed frame with stronger & thicker gauge frame, sturdy metal platform, much more robust for use in more industrial type work situations.
SELECTION CONSIDERATIONS
When choosing a Safety Access Platform, there are three main considerations. Generally there are three main considerations when purchasing a platform, unless you have special requirements, like a mine site specification ladder.
Height
The height is a very important consideration, as this impacts the efficiency of the work being done, and more importantly the safety and ergonomics as well.
Normally work should be done practically and productively from between waist and chest level, so effectively the platform height needs to allow for this.
It's important to note, that the workers should not be bending over too low or stretching up too high continuously, as this can cause injury. It can also impact the flow and efficiency of work.
A good solution to this is to find a safety access platform ladder, that suits the exact height requirement you are after. Many brands such as Steprite, offer a wide range of incrementing heights.
Work Load Limits
Any Safety Access Platform Ladder, should have a working load limit. this is the limit of weight the platform or ladder is designed to be used with. With a basic access platform this limit is normally one person, or 150KG.
Heavy Duty Access Platforms Ladders can have a WLL of 250KG or even higher, and are therefore built more substantially in terms of how structural they are. They usually have a larger deck/working area.
For Access Platform Ladders requiring two or more people, usually a custom-built Access Platform Ladder will be required.
Fixed or Mobile
Access Platform Ladders can be fixed directly to the ground or other surfaces, to make a permanent position. While this isn't always the best solution, for lower quality access platforms, it can enhance stability.
Mobile is also an option, and generally a more popular one. With wheels fitted they allow for movement around the site or workshop. Higher quality, heavy duty wheels will last longer and perform better if there is a high frequency of movement required.
Image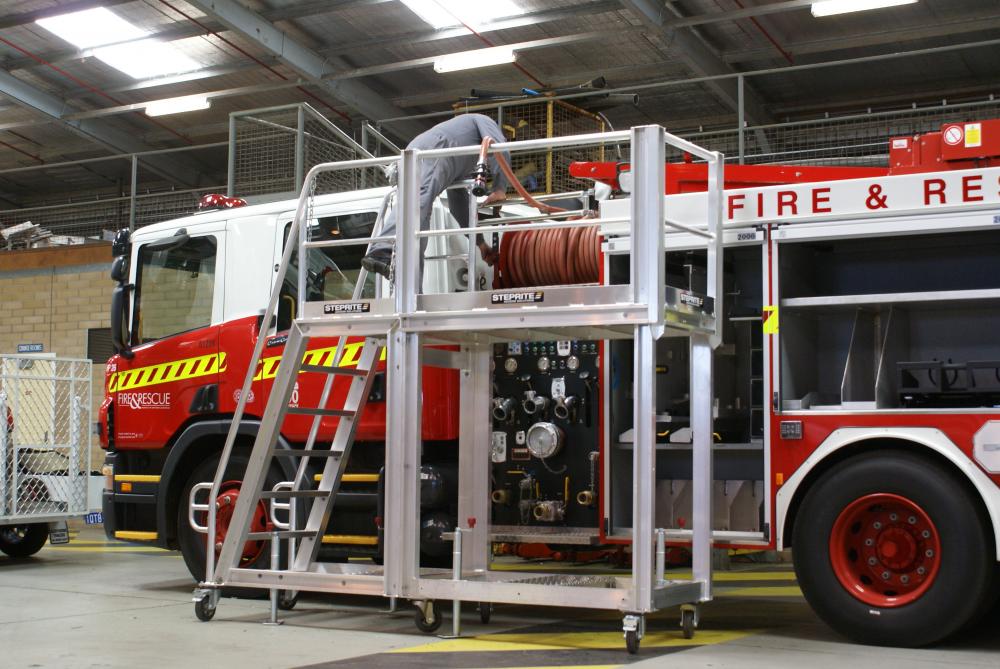 WHEN YOU CAN'T FIND THE RIGHT PLATFORM
Having an Access Platform custom built is not as uncommon as you may think.
OEM Group Engineering custom build access platforms and walkways to client specifications. They are designed and constructed to meet the exact requirements of the workshop or onsite access application. These structures are typically manufactured with special sizes and configurations to be machine specific for repairs and maintenance. 
All our custom built platforms meets AS1657 for all our fixed platforms, walkways, stairways and ladders and are fully engineered as required to meet the necessary regulations stipulated by clients.
 
We design specialised solutions, tailor made to suit the customers individual product needs - assisting them to safely perform their works, efficiently and in a timely manner.
WHERE TO BUY ACCESS PLATFORMS
At OEM Group we supply a wide range of Safety Access Platform Ladders to suit many industries and applications. Steprite is designed to solve working at heights problems with a huge range of safety and efficiency features. 
Call us today for a quote on our Steprite Access Solutions.
If you have any questions or are interested in getting more information, please call us to discuss on +61 (8) 9270 0200. 
Or simply send us an email at contactoem@oemgroup.com.au.