Paragraph
Discover this important and effective cleaning method by introducing foam into your fleet cleaning. We will teach you how to save time, cut costs and what you will need to get started with foam cleaning.
In this guide we explore:
Image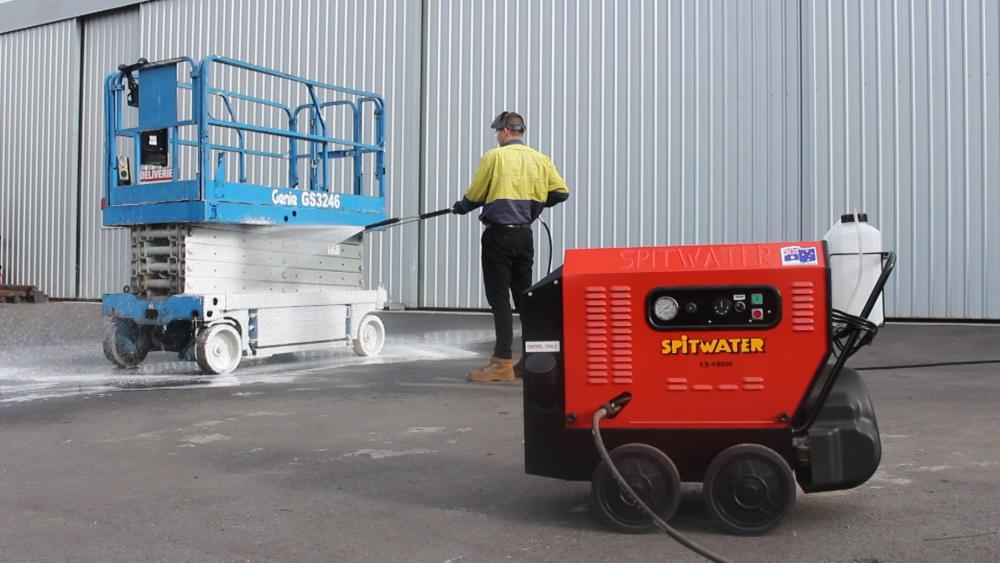 WHY IS FOAM SO POWERFUL?
Dwell time
Foam chemical needs time to dwell on a surface to bond and release the grime. This allows the foam to encapsulate the grime and decreases the need for harsh scrubbing. In most cases, a matter of a few minutes is adequate for the foam to have enough time to produce quality results. Allow enough time for the chemical to completely run off the vehicle.
Coverage
When you foam chemical onto a surface it creates a thick blanket of snow foam that is easily visible ensuring that you have adequate coverage to complete a quality clean.
Touchless
There are many benefits to a touchless wash:
Reduces the chances of swirl marks and micro scratches
Safer option for the user, eliminates the risk of injury
Time saving - complete a clean in half the time of a manual wash
 
Cuts chemical consumption - allows choice for a ratio of chemical / water to monitor chemical consumption to control of how much chemical is to be used for all types of wash scenarios.
WHAT DO I NEED TO START?
Pressure Cleaner
You will require a quality pressure washer, ideally with a minimum of 1800PSI.
Flow is also very important. The suggested minimum flow rate to produce good quality thick snow foam is around 7-8 LPM, with the ideal flow rate being 15-21 LPM.
For our comprehensive guide on how to choose a pressure washer, click here.
Foaming Bottle
Choose a foaming bottle that offers you the most advantages.
Chemical
This will depend on what is right for what you are cleaning and how dirty your surface is.
PPE
When working with chemicals you will need personal protective equipment (PPE). These can include Aprons, overalls, footwear, gloves, glasses, and a face shield. Your chemical supplier will have more information for you based on your chemical of choice.

To further reduce your risk, ask your chemical supplier for a full breakdown on how to eliminate risks when using chemicals and obtain a safety data sheet (SDS).
Image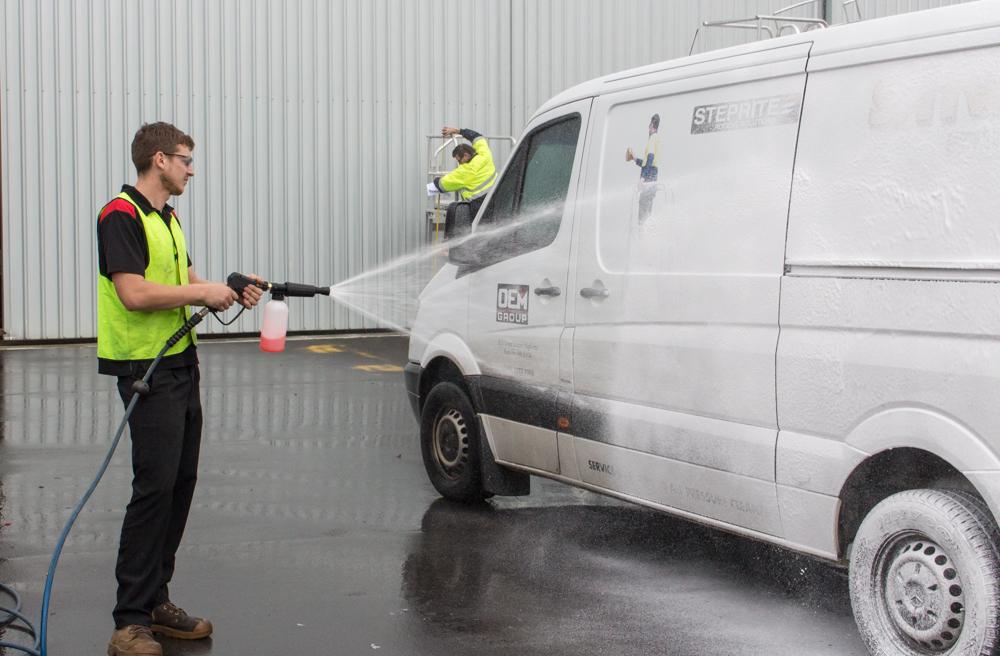 CHOOSING A FOAMING BOTTLE
UV Stabilised
Try to choose a foaming bottle that is UV stabilized. In today's harsh climate, and the likelihood that your foaming bottle could be left out in the elements, it is important that you bottle can endure these factors.
Chemical ratio selection
Many average foaming bottles will require you to premix your chemical/water prior to filling the bottle. A good quality foaming bottle will be fitted with a dial that has dosing positions to allow you to select the chemical / water ratio. We recommend the Suttner brand of foaming bottle available at OEM Group which offers this feature.
Stainless interior
Increase the longevity of your bottle by choosing a bottle that is manufactured using stainless parts within the head of the bottle - this will prevent corrosion and increase product life.
Wide mouth
Choose a bottle with 'wide pouring mouth'. The decreases the chance of spillage, cuts costs and reduces mess.
CHOOSING YOUR CHEMICAL
There are many brands of chemicals all over the world, how do you choose one that is right for you. Take your time researching the perfect chemical for your application.  The type of chemical you purchase will need to be chosen based on what you are washing. To choose your chemical, first ask yourself these questions:
Are you washing a new vehicle with shiny metals that could tarnish easily?
It is very important that you let your chemical supplier know that you have shiny polished surfaces on your vehicle. Aa single wash with the incorrect chemical can mean that your shiny surfaces will need hours of polishing to bring them back to new again and in some cases, they are permanently damaged.
Are you trying to remove light surface grime or a heavily soiled vehicle that has not been periodically washed?
If your vehicle has been well looked after, and washed regularly you may only require a general truck / vehicle wash, however if your vehicle has not been routinely cleaned a stronger chemical may be required and more than one wash to clean up well.
Are you removing red dirt?
Generally speaking - red dirt will require an acid/alkaline wash, as it seems to have the ability to eat its way into the surface and stain. This will again vary on how often the vehicle has been washed previously.
Do you require a prewash such as anti-insect wash?
Many vehicles are heavily soiled with bugs, this is seen quite often seen on trucks. A prewash with an anti-insect chemical can help remove the bulk of the insects prior to your standard truck wash.
Will you be needing a polish for finishing?
To finish off your washing regime a good idea might be to complete your wash with a polish, as well as making the vehicle look more appealing, this adds a bit of protection to the surface of the vehicle by preventing debris to stick.
Image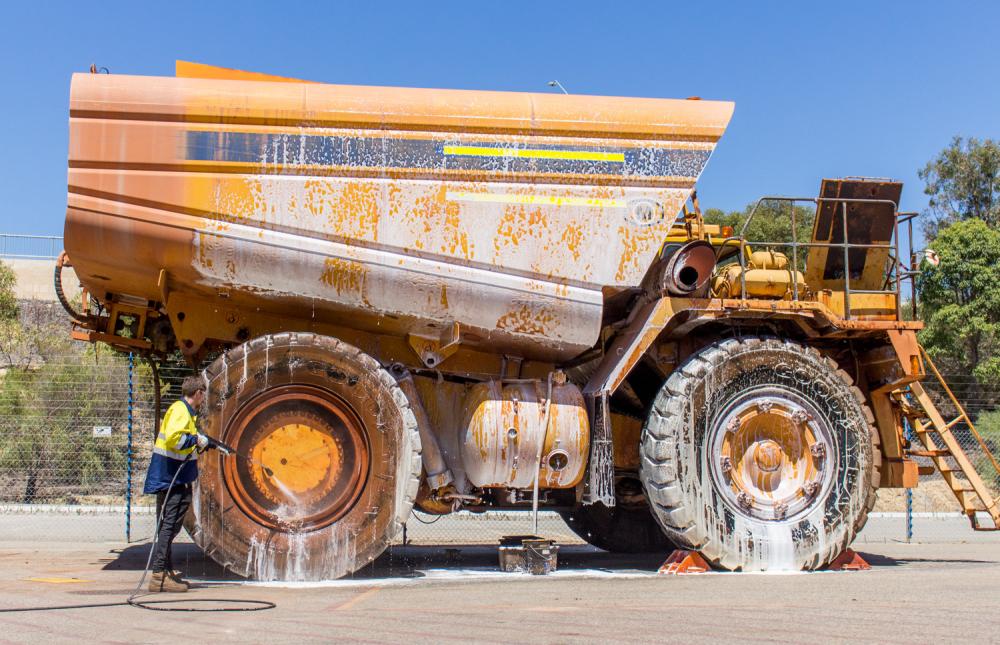 APPLYING THE FOAM
1. What you need - You will need your PPE, pressure washer, water source, foaming bottle and chemical of choice.
 
2. Location - Be sure to have your vehicle in a shaded area. If you have your vehicle parked in direct sunlight, your chemical will dry on the surface before you have a chance to rinse. Be sure follow instructions on whether your chemical is best applied to dry or wet surface.
 
3. Prepare your pressure washer- Follow correct procedures to turn your pressure washer on and connect your foaming bottle to your lance.
 
4. Presoak if necessary- Apply your presoak, such as an anti-insect foam, and rinse it off before applying chemical.
 
5. Application of chemical - Foam the vehicle from top to bottom with your main chemical of choice. The vehicle should be completely covered in a relatively thick foam - you want to foam to be able to run. Allow time to dwell for the recommended length by your chemical supplier. Wait and allow the foam to run from top to bottom. While this is a touchless application you can use a soft bristled brush for thicker grime if required.
 
6. Rinsing- ensure that you are rinsing with clean water from bottom to top of the vehicle.
 
7. Double application - Generally, the vehicle should only require one application. If a double wash is required, repeat the foaming process.
 
8. Polish – Once your vehicle has had it's foam treatment, you can finish with a polish.
 
9. Drying - Once fully rinsed and/or polished, allow your vehicle to dry in a shaded area and enjoy!
FINAL THOUGHTS
With the right products and pressure washer, foaming can offer an incredible amount of time saving in your cleaning processes and can save up to 50% of time spent cleaning your vehicles.
OEM Group offers an extensive range of electric, petrol and diesel powered pressure washers. We offer sound knowledge of chemicals for many different applications and build solid relationships with our chemical suppliers.
We are ready to help you with your enquiry at any time. OEM Group also stocks a range of foaming applicators and we can size these applicators to your machine by its PSI & FLOW.
Our sales team are here to answer your questions.
We look forward to your next visit with us here at OEM Group.
Ph: (08) 9270 0200
Email: contactoem@oemgroup.com.au