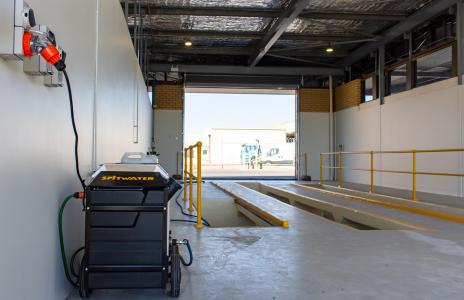 It stands to reason that a Bus Depot works to a very strict timetable. There are many people in the community who rely on a regular bus service, so it's important to keep the show on the road. Every hour of downtime – when a bus is inactive in the yard – must be kept to a minimum.
"That's why a pressure cleaner from OEM Group is a popular choice for busy workshops, particularly for a timetable-focused business, like logistics and transport" said Darren Pickard from OEM Group.
"With our huge range of Spitwater pressure cleaners, offering a wide-variety of pressure outputs in either hot or cold water, we're sure to have unit to suit you" he explained.
"Recently, we supplied a Spitwater SW151 Pressure Cleaner to a local bus depot. They needed a compact but powerful unit for cleaning the engine chassis and general wash downs of their huge fleet of vehicles".
"They're running multiple heavy-duty vehicles and the community rely on them, so it's important that every bus spends minimal time standing idle. Yet, at the same time, it's also vital that each vehicle looks clean and receives a thorough washdown" Darren said.
After listening closely to the client and identifying exactly what they needed from a new pressure cleaner, clearly the Spitwater SW151 (pictured) was the perfect choice.  
"It's a feature packed, high performance solution" said Darren proudly.
The unit is easy to operate and also very quiet because it has an electric motor. It also includes a diesel-fired burner to provide temperature controlled hot water.
"Even more, after we delivered and commissioned the unit, we provided complimentary onsite training at the bus depot. All of their service staff were free to attend as we explained effective operation, general safety rules and expert cleaning tips" added Shaun Patience, Group Sales Manager at OEM Group
"The free training is designed to help their crew get the most out of the machine. We want them to fully leverage the power and capability of their new hot water pressure cleaner".
"Yes, we really go the extra mile for our clients, but superior after-sales service is all part of our partner in productivity ethos" said Shaun.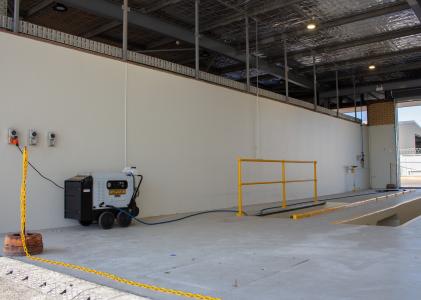 At the OEM Group, we take in pride in being able to offer a fully tailored solution for every client. This includes product demonstrations (prior to sale) and onsite training sessions. 
"We also offer fixed price service and maintenance schedules, plus a range of payment options. You can even choose to hire the equipment instead of buying. There are many benefits to either a short term or a long-term rental plan with OEM Group" explained Shaun.
To discuss our range of pressure cleaner solutions, contact a partner in productivity at the OEM Group now on (08) 9270 0200. Or email contactoem@oemgroup.com.au