Introducing the Latest Innovation in Heavy Vehicle Recovery
Fri, 02/14/2020 - 12:56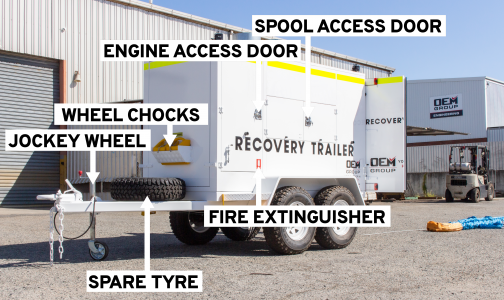 Mobile Recovery Trailer – proven performer
All-in-one management system for heavy-duty towing assets
Self-contained unit – integrated rope, hitch, hydraulic winch and more
Mine spec: for safe, speedy recovery of heavy-vehicles
Custom designed and fabricated by OEM Group in WA
The physical stresses involved in heavy-vehicle recovery are enormous. Not just on the equipment, but on your most valued asset - your people.
To man-handle the hitches – and manually position the heavy-duty tow rope – your crew are placed under serious pressure too.
There's no doubt about it: extracting a broken-down haul truck or mining loader - even in dry dirt on the flat – creates a potential injury hazard for the recovery workers.
Even worse, when the tow equipment is not treated with the respect it deserves, the degree of difficulty and danger increases each time there's a tow.
At many sites, after each recovery mission, the tow rope and hitch are simply left exposed to the elements. Often stowed on the back of a ute or dumped in a yard, it can create a wet and muddy mess, even a tangled, frayed puzzle. It's not the ideal recipe for safe manual handling.
Clever trailer design eliminates manual lifting.
OEM Group designed and developed an innovative recovery solution. Our all-in-one mobile Recovery Trailer offers a safe, speedy and convenient solution for heavy vehicle and equipment recovery.
With the manual heavy lifting removed, the potential for operator injury is significantly reduced. Even more, with tow rope and hitches all under cover and protected from the weather, there's less deterioration of the key equipment over time.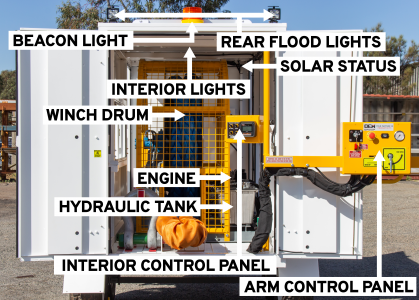 Everyone knows that covered equipment will last much longer. Also, when it's not lying around between jobs, it's not creating a trip hazard.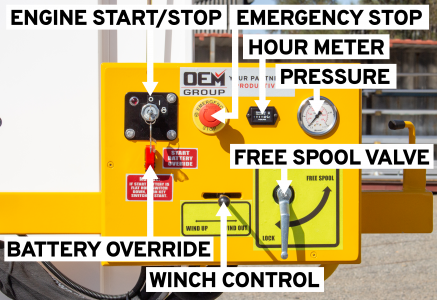 A safer and more professional approach.
There's a fully integrated hydraulic winch installed in the OEM Group recovery trailer. It safely and reliably unspools the massive tow rope, and then winds it up easily when you're done. With everything organised and safely in place, your recovery team can work carefully and systematically.
With less physical input, it leads to a more ordered, structured and highly organised approach. It a nutshell, it's all much better managed. Therefore, the opportunity for injury is greatly reduced.
Here's a glance at some of the key features:
Mine spec - designed and fabricated in WA by OEM Group to relevant safety standards.
The powerful hydraulic winch is run by a reliable diesel motor
Fitted with powerful work lights – operate 24/7
Lights powered by 3 batteries, installed and ready to go
Solar Panels on the canopy roof - recharge the batteries during the day
Get in touch
For ease of operation and quick maintenance, the recovery trailer is cleverly designed to offer convenient access to all the equipment.
With a place for everything, and everything in its place, your next Recovery operation can be faster, smoother and so much safer.
As your partner in productivity, the OEM Group can custom design and fabricate a Recovery Trailer specifically for your site and your specialised equipment.
To discuss your requirements, contact Ryan de Mol today.
OFFICE: (08) 9270 0200
MOBILE: 0438 929 611
Email: r.demol@oemgroup.com.au