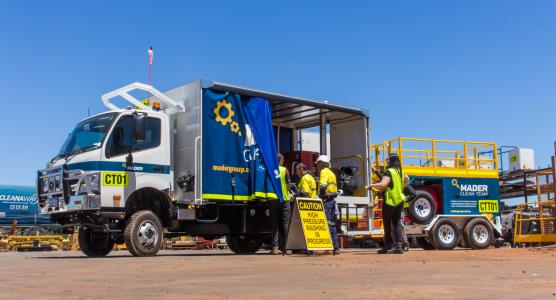 Rapid Response Equipment Washing
With the help of OEM Group's vast expertise in custom pressure-cleaner design, the Mader Group recently launched a unique, environmentally-friendly, rapid-response service, offering equipment washing, plant cleaning and end-to-end shutdown cleans.
Kristy Dunn from the OEM Group said, "With their new mobile cleaning unit – custom-designed by the OEM Group - they're able to visit any site and complete fast and efficient equipment washes".
"To get their mobile cleaning truck ready, they asked OEM Group to design and build a fit-for-purpose pressure cleaning set up. Based on our very popular Workmate Hottie – a heavy-duty trailer-mounted pressure cleaner unit with an integrated access platform – this type of configuration is unique to the OEM Group" explained Kristy.
Grant Barfield from the OEM Group said that the custom designed truck "is a perfect example of our partner in productivity ethos. We listen closely to every customer and work with you to provide a solution that will optimise your productivity".
"For example," Grant continued "we tailor-fitted the Mader unit with a series of special features to suit their exact requirements".
We Specialise in custom made pressure cleaners
"We also custom-fitted a stainless-steel heating cylinder giving them the ability to offer a hot wash" said Grant.
"Other cutting-edge accessories include rollover lances with foaming heads (for washing with chemicals), a top deck for easy and safe access, diesel transfer tank, additional hi-flow pump and custom fit toolbox. All of this installed directly onto the customer's truck by the team at OEM Group" added Kristy proudly
"With the purpose-built pressure cleaner unit supplied by OEM Group, they can maintain your mobile plant equipment in a safe and environmentally-friendly fashion" she said.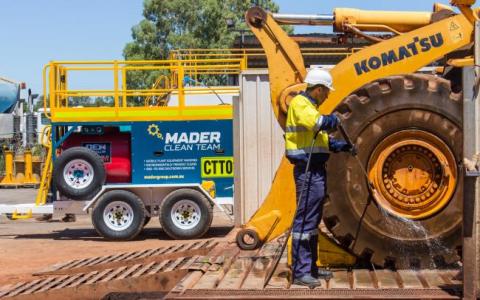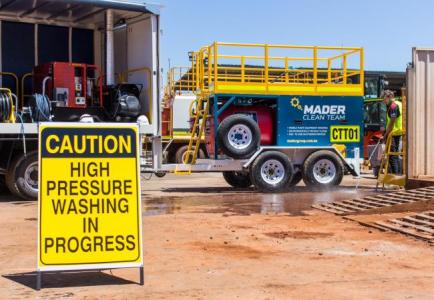 The custom-made pressure cleaner is built to withstand extreme Pilbara conditions. And it allows Mader to offer a range of high-pressure cleaning solutions. from gentle low-pressure washes to high-pressure hoses to remove stubborn built-up dirt. The result is a thorough and targeted clean.
No matter the size or state of your earthmoving equipment, with the custom pressure cleaner set-up designed by the OEM Group, they can now guarantee a job to the highest standard.
To discuss our range of pressure cleaner solutions, contact a partner in productivity at the OEM Group now on (08) 9270 0200. Or email contactoem@oemgroup.com.au