61% Off - Valid Accessories
Mon, 05/11/2020 - 11:02
Accessories can make a massive difference to pressure cleaning performance. That's why we are so excited for our 61 Day 61% off promotion. Below we have outlined which accessories are valid for the promotion and how they are commonly used to improve performance.
View our complete range of pressure cleaners or learn more about our promotion here. Call / email us for more.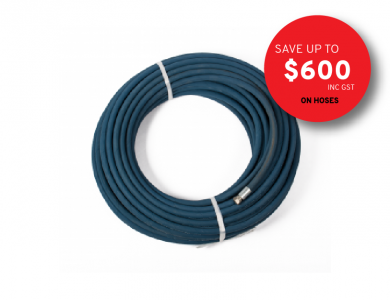 Longer Hoses
Up to 50 Metres of Length
Pairs well with a Hose Reel
Perfect for Washbays
Rugged & Durable
While a longer hose doesn't sound like much of an accessory, it add's a great deal of flexibility and saves a lot of time working your way around larger vehicles and objects. They are very useful for when the pressure cleaner is stationary like in a washbay.
Foamers
Aerates your Chemical into a Foam
Improves Chemical Effectiveness
Maintenance Free
Allows Soaking in Chemical
Foamer's aerate the soap / chemical and in that manner allow it to stick and soak onto your surface.

While it may not sound that exciting, the impact on your cleaning performance, will speak for itself. Of course, they work best when paired with a good chemical like Chemform.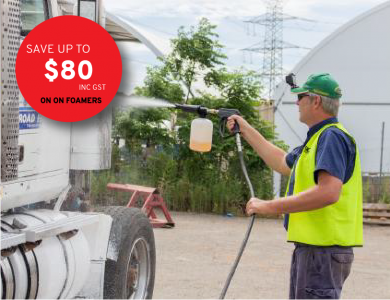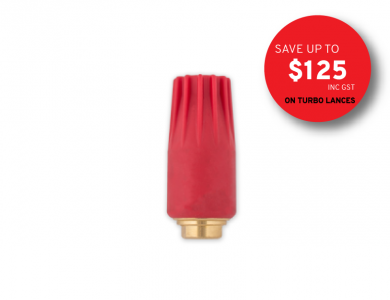 Turbo Lances
Simulates higher Pressure
Reduces Clean Time
Maintenance Free
Ceramic Ball Bearings
Turbo heads have been around for a while but are often under appreciated in the impact they have on cleaning performance.

They work by  rapidly rotating the pressure washers spray into a  cyclic, spinning motion, simulating a far greater pressure. These are a must have accessory for any tough cleaning job, as they really cut through stubborn grit.
Sand Blaster
Wet Sandblasting Kit
Fast removal of dirt/paint/rust
Conversion for Your pressure Cleaner
Easy to Use
Did you know you can do sandblasting with your pressure cleaner? Our sandblasting attachments allow you to wet sandblast using a Spitwater Pressure Cleaner.
One of the biggest benefits of Wet sandblasting over dry, is that it reduces the dustiness and the amount of clean-up of sand afterwards. Especially when you can change to a standard nozzle to wash away the sand.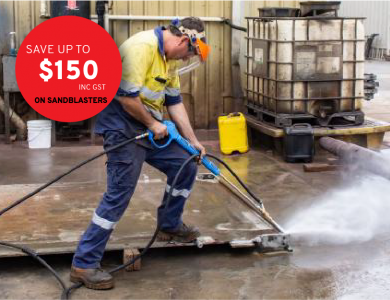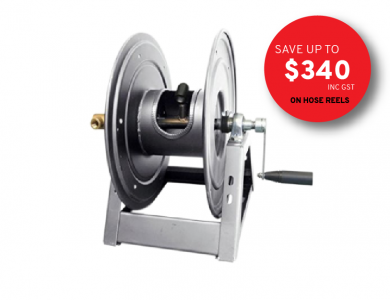 Hose Reels
Prevents Damage to Hose
Easy Hose Storage
Maintenance Free
Improves Safety
Hose Reels are another accessory that are often  under appreciated.  A decent hose reel both improves safety and reduces tangles in the hose. The also prevent costly damage to your high pressure cleaning hose.

Combined with a swivel, these make your cleaning job faster, more efficient, cheaper and remove the frustration  of coiling and uncoiling hoses. As a once off investment, they are a must.
Rotary Surface Cleaners
Improves Cleaning Speed
Recovery Vacuum Port
Improves Safety
Low Maintenance
Surface Cleaners allow faster and safer cleaning of large areas. Containing a housed rotating rotor arm with multiple nozzle connections.  With several models also supporting a recovery vacuum hose, surface cleaners speed up the cleaning process, reduce the environmental impact with the recovery hose port, improve safety of the operator and are designed to be adjustable for various environments.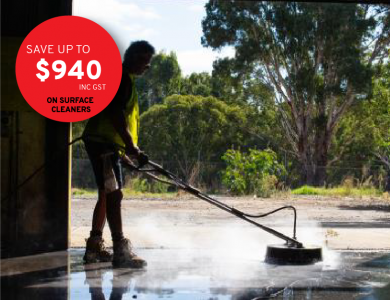 Find out more
If you are looking for any of the above accessories, or just after advice on how to speed up your cleaning, call us on (08) 9270 0200 or you can email us here.