Paragraph
At the OEM Group we are working to improve the level of training to optimise the productivity and improve the safety of our clients. We are doing this by partnering with Site Skills Training in the introduction of a new high pressure cleaner training course.
Pressure washers are becoming an increasing part of commercial and industrial operations as the benefits of pressure cleaning become better known.
Conventional cleaning that would normally take a large amount of time energy and sometimes even special access equipment for larger items, can be done easily and simply and even be scrubbed from a distance with a high pressure cleaner in a fraction of the time.
Image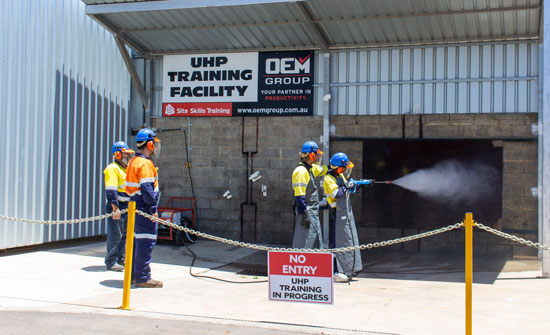 Site Skills Australia Partnership
We are proud to be working with Site Skills Australia to achieve greater safety and productivity on site.
Completed at the OEM Group facility, the training is conducted by experienced trainers from Site Skills Australia, one of Australia's leading providers of industry training.
The course has no prerequisites and is conducted over a period of two days. Upon completion students will not only have technical competence with high pressure jetting, but also be better prepared for safe operation within a worksite which may not be familiar. Students will work to achieve four units of competence.
Block
Get in Touch
Find out what OEM Group can do for you.