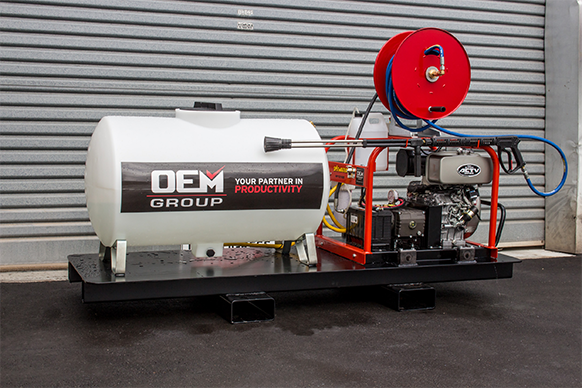 Custom Designed Pressure Cleaners.
With in-house design, engineering and fabrication expertise, we can custom-design a pressure cleaner to perfectly suit your needs..
We are the specialists in creating tailor-made machines, included trailer mounted pressure cleaners (or on skids), complete with access platforms, and on board water tanks.
You can see just a few of the many examples of custom built pressure cleaners below.
If you have a unique application and require a tailor made solution - including extra high pressure - please contact us to discuss a custom-made pressure cleaner.
For more information, or sales inquiries, please contact: (08) 9270 0200
Workmate Hottie
Built to mine specifications, the Workmate Hottie was designed to work on Australia's toughest mine sites. Powered by a genuine Spitwater SW15200DE and set on a galvanised 8 x 5 heavy duty trailer, the workmate Hottie is built for safety and productivity.
Front & Rear Stabilizers
Off Road Wheels
Rated to 2.8 Tonne
Top Platform 1.5M² x 2.55 High
Lockable Toolbox
1.2M High Handrails
1000L Tank w/Gauge
Adjustable Temperature
Hottie IV
Built for industrial use, the Hottie IV provides a safe portable pressure cleaning solution across a wide range of industries. With an extensive list of features it was designed to optimise the productivity of its users.
Electric Key Start
100% External Bypass
Tandem Axle Trailer
Adjustable Chemical Dispenser
Low Level Cut Off
Heavy Duty Gun & Lance
1000L Tank w/Gauge
Temperature up to 90°C