HP201- Hire

PRESSURE CLEANER
Electric /Cold Water / Industrial
Description
Description
The very popular SPITWATER HP201 is a great electric cold water machine for those big cleaning jobs in industrial industries including mining, earthmoving, heavy vehicle cleaning, agriculture, marine, and transport depots.
With an operating pump pressure of 3000PSI/200BAR, this machine has a flow rate of 15 litres per minute. The 415V electric motor runs at 7.5HP and features an easy electric start button and a 20-Amp 3-Phase plug. To cut down cleaning time, it comes included with an adjustable detergent dispenser with hose and washable filter and 5L chemical bottle.
The high-quality Italian-made pump is an WS201 Interpump Pump which runs at a low speed of 1450 RPM to reduce the pumps wear and tear. The pump is made with a  nickel-plated brass pump head with stainless steel valves and ceramic pistons for a longer pump life.
These high-quality parts are protected with several great features, including 100% bypass into cooling tank that reduces potential damage to the pump overheating, a pressure gauge which easily monitors pump performance, and a thermal overload which protects the electric motor if an electrical problems occurs.
Included accessories are a 10m 3/8" dual wire braided high pressure hose rated to 400 BAR, heavy duty gun and back part lance and Front Part Multireg Lance featuring an adjustable fan, and low and high pressure modes.
All pictures shown are for illustration purposes only. Actual product may vary. 
REQUEST QUOTE ►
CALL (08) 9270 0200 ►
Increased Machine Life, Higher Performance & Greater Reliability
Triplex Ceramic Plunger Pump
Stainless Steel Valves deliver a longer life and better Performance
To Easily Monitor Pump Performance
Low Speed Pump for Heavier use & a Longer Life
Washable Filter stops Debris from Scoring Pistons and Seals
For Industrial & Commercial Use
Heavy Duty Daily Use of 8+ Hours
The Cost effective, Low Maintenance Cleaning Solution
Adjustable Chemical Dispenser for Efficient Cleaning
High Quality Aussie Construction from Albury, New South Wales
Features
Image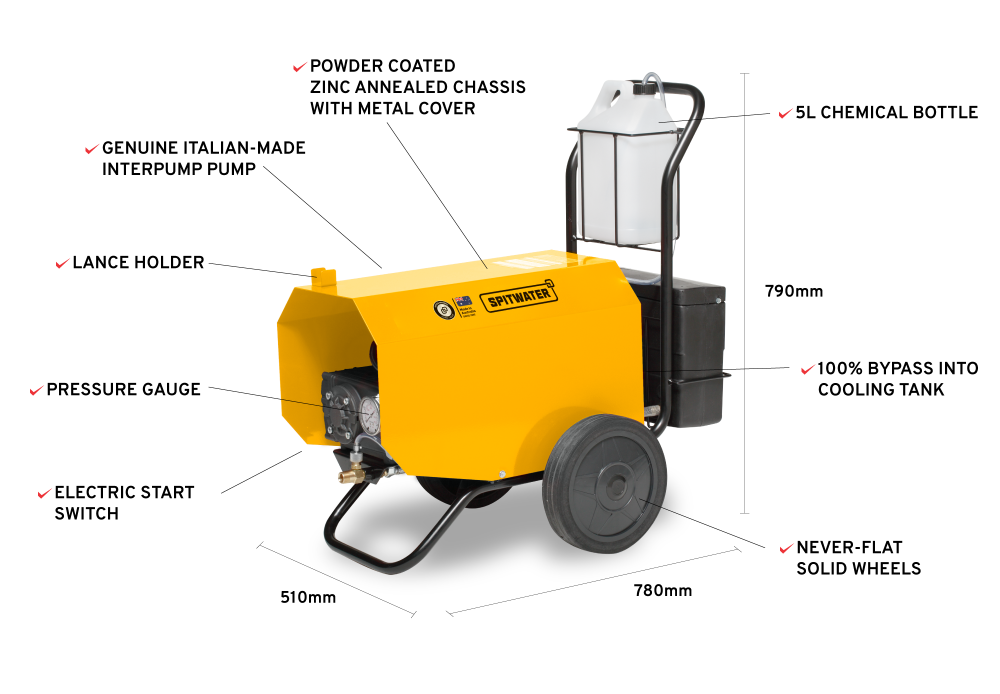 HIRE
BUY

This pressure cleaner is both available for purchase and as a long term hire. For more information on long term hire and its benefits, call us!
FEATURES
Featured
Fully Serviceable
Genuine Italian Made Interpump Pump
Nickel-plated Brass Head with Stainless Steel Valves and Ceramic Pistons
100% Bypass into Cooling Tank
Pressure Gauge
Direct Drive
Low Speed 1450 RPM Pump
Power Coated Zinc Annealed Fram ewith Metal Cover
Never-flat Solid Wheels
Electric Start
Washable Inlet Water Filter
Adjustable Chemical Dispenser with 5L Bottle
Australian Made
Actual products may differ slightly in appearance to images shown. The manufacturer reserves the right to modify design features and technical data without notice.
Download the Product Catalogue
Learn more about products and services that we have to offer.