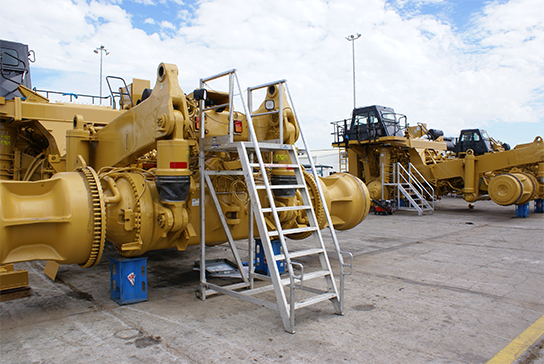 INTRODUCING STEPRITE WORK PLATFORM LADDERS.
Providing a safe and reliable access solution for working at heights. Steprite design and manufacture a range of quality engineered Safety Work Platform Ladders that comply with all occupational health and safety requirements.
Steprite platform ladders are constructed from strong, lightweight structural grade aluminium. This results in a quality product requiring minimal maintenance and is further backed up with a lifetime warranty against faulty workmanship.
All of our Work Platform Ladders have been designed and independently tested and exceed all relevant Australian standards.
Steprite platforms are already used for working at heights across a wide range of industries, including mining, aviation, construction, transport, agriculture, mechanical and manufacturing workshops.
For more information, or sales inquiries, please contact: (08) 9270 0200
PLATFORMS FROM 500MM HIGH TO 3 METRES.
Platforms come in a range of standard sizes, starting at a working height of 500mm and increase in 250mm intervals all the way up to our largest at a 3 metre working height.
Safety Chain & Clips
Removable Safety Gate
Tool Tray
Seamless Handrail
Lifting Handles
Heavy Duty Platform
Non Slip Treads
Lightweight Aluminium Design
MINE SPECIFICATION SAFETY PLATFORMS.
We also provide platforms built to mine specifications. These can be customised to suit your individual sites requirements. Mine specs platforms typically include:
HEAVY DUTY PLATFORM.
Nonslip surface with 4.5mm thick plate for added strength and durability.
HAND RAIL.
Seamless fully welded 900mm high handrail with midrail to ladder and platform.
C-SECTION.
Specially designed lightweight 'C' section provides high strength and torsional resistance. It also allows fixings to be concealed and not protude, improving safety.
CLEARANCE.
Clearance of 200mm all around to allow access over equipment, tools and other obstacles.
LOCKABLE SWIVEL WHEELS.
Swivel wheels help maneuver platforms into place quickly and easily.
ANTI SLIP.
Improving onsite safety by assisting with the prevention of slips and falls.
FORKLIFT POCKETS.
Providing a simple solution for the safe positioning of safety access platforms with a forklift.
TOOL TRAY.
Keeps tools and equipment dry and clean using the included tool tray.
LIFTING HANDLES.
Conveniently placed lifting handles allows the unit to be moved around easily.
INSPECTION PLATE.
Clearly visible plate containing identification, inspection frequency and safety certifications.
BARN STYLE SAFETY DOORS.
Self closing barn style safety doors, with optional safety hinges and safety yellow paint. One way self closing to prevent falls.