SW2030 - Hire

PRESSURE CLEANER
Electric /Hot Water / Industrial
Description
Description
The powerful skid-mounted SPITWATER SW2030 is a true heavy-duty pressure cleaner. This hot water electric machine is commonly purchased for custom applications, it is also used for ultra-heavy grease and oil removal and is frequently used in the earth moving industry.
Unmatched amongst the hot water electric pressure cleaners, this 15HP machine has a flow rate of 30 litres per minute and an optimal pump pressure of 3000PSI/200BAR.
The direct fired diesel burner generates the hot water which gives this pressure cleaner an adjustable temperature up to 90°C, and has an optional steam kit for temperatures up to 150°C. 
This machine features several safety features including low water cut off, bypass shutdown, emergency stop, inset water filter, pressure gauge and the SPITWATER exclusive 100% bypass into the cooling tank.
Built on a powder coated zinc annealed chassis and featuring fork-lift pockets, this pressure cleaner is transportable and can be used anywhere on site.
This machine comes with a 10m 3/8" Dual Wire Braided High Pressure Hose, a Heavy Duty Gun & Back Part Lance and a Heavy Duty Dual Front Part Lance.
Please note: This machine requires a 3 Phase 32 AMP Plug for normal use and diesel as well for hot water use.
All pictures shown are for illustration purposes only. Actual product may vary. 
REQUEST QUOTE ►
CALL (08) 9270 0200 ►
Increased Machine Life, Higher Performance & Greater Reliability
Triplex Ceramic Plunger Pump
Stainless Steel Valves deliver a longer life and better Performance
100% Bypass Into Cooling Tank
Reduces Potential Damage to the Pump from Overheating
To Easily Monitor Pump Performance
Prevents the Pump from Running Dry
Adjustable Hot & Cold Water Wash
This Machine is Available for Short Term Hire
Twin Heating Coils for More Efficient Heating
Low Speed Pump for Heavier use & a Longer Life
High Quality Aussie Construction from Albury, New South Wales
Features
Image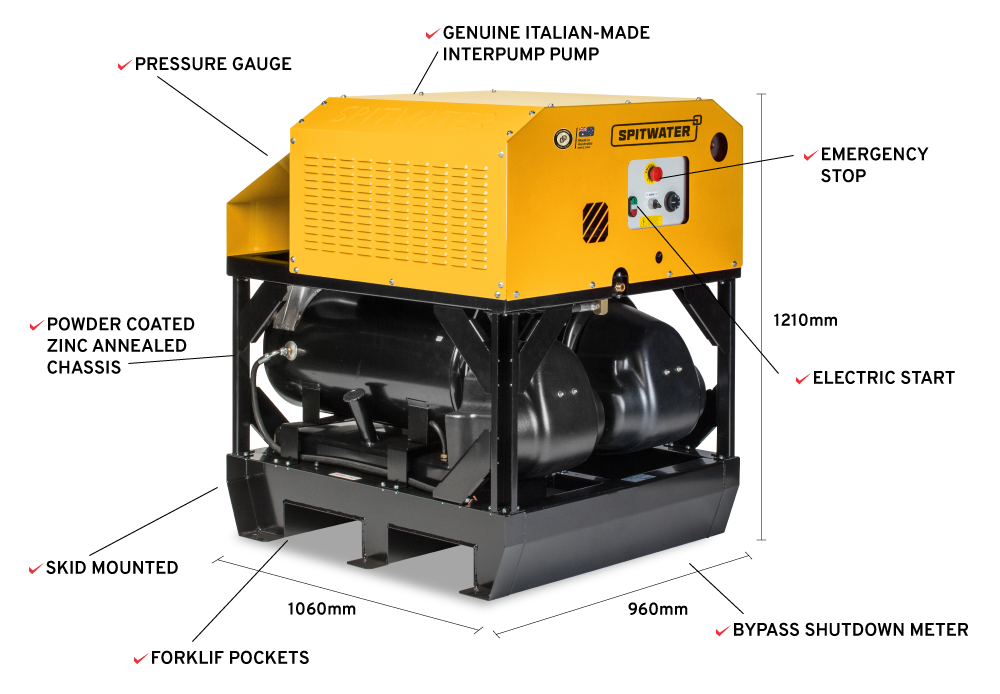 HIRE
BUY

This pressure cleaner is both available for purchase and as a long term hire. For more information on long term hire and its benefits, call us!
FEATURES
Featured
Fully Serviceable
Genuine Italian-made Interpump Pump
Non-corrosive Brass Head Pump with Stainless Steel Valves and Ceramic Pistons
100% Bypass into Cooling Tank
Pressure Gauge
Belt Drive
Low-speed 1450RPM Pump
Twin Heating Coils
Direct Fired Diesel Burner
35L Diesel Capacity
Powder Coated Zinc Annealed Chassis
Electric Start
Washable Inset Water Filter
Emergency Stop
Bypass Shutdown Meter
Adjustable Temperature to 90°C
Skid Mounted
Fork Lift Pockets
Low Level Water Cut Off
Australian Made
Actual products may differ slightly in appearance to images shown. The manufacturer reserves the right to modify design features and technical data without notice.
Download the Product Catalogue
Learn more about products and services that we have to offer.