Box Jet Turbo 8/90 - Hire

PRESSURE CLEANER
Electric /Cold Water / Commercial
Description
Description
Our most popular small cleaner, the SPITWATER Box Jet Turbo 8/90 has proven longevity and efficiency. Portable and easy to use with a carry handle, this unit is perfect for around the house or for light commercial jobs. This Electric Cold Water Pressure Cleaner was built with the SPITWATER philosophy of high-quality parts and is fully serviceable.
At 2HP, the 240V electric motor offers a flow rate of 8 litres per minute and an operating pump pressure of 1350 PSI/90 BAR.
Complete with a non-corrosive brass pump head with stainless steel valves and ceramic pistons for a longer pump life, the Italian-made Interpump Pump has a pump speed of 2800 RPM.
These high-quality parts are protected with a pressure gauge which easily monitors pump performance and comes with a detergent applicator bottle to cut down cleaning time.
Included accessories are an 8m 1/4" high pressure hose rated to 250BAR, Commercial Gun with Back Part Lance and a Front Part Multireg Lance featuring an adjustable fan, and low and high pressure modes.
All pictures shown are for illustration purposes only. Actual product may vary. 
REQUEST QUOTE ►
CALL (08) 9270 0200 ►
Increased Machine Life, Higher Performance & Greater Reliability
Triplex Ceramic Plunger Pump
Stainless Steel Valves deliver a longer life and better Performance
2800 RPM for Heavy-duty Commercial Use
To Easily Monitor Pump Performance
The Cost effective, Low Maintenance Cleaning Solution
Heavy Duty Commercial Daily Usage
For convenience of use in a variety of locations
With Hose and Filter to Cut Down Cleaning Time
Quality Italian Manufacturing by Experts
Features
Image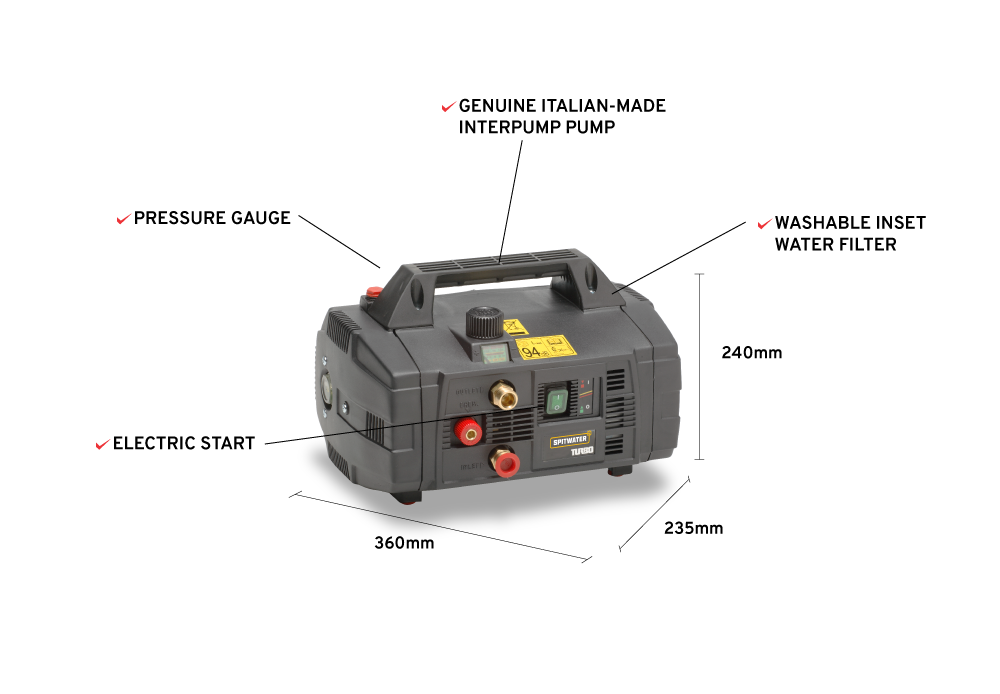 HIRE
BUY

This pressure cleaner is both available for purchase and as a long term hire. For more information on long term hire and its benefits, call us!
FEATURES
Featured
Fully Serviceable
Genuine Italian-made Interpump Pump
Non-corrosive Brass Head Pump with Stainless Steel Valves and Ceramic Pistons
Pressure Gauge
Direct Drive
2800RPM Pump
Electric Start
Washable Inset Water Filter
Detergent Injector with Hose and Filter
Italian Made
TECHNICAL SPECIFICATIONS
Box Jet Turbo 8/90 - Hire
Actual products may differ slightly in appearance to images shown. The manufacturer reserves the right to modify design features and technical data without notice.
Download the Product Catalogue
Learn more about products and services that we have to offer.