23-350HYD - Hire

PRESSURE CLEANER
Hydraulic /Cold Water / Industrial
Description
Description
The SPITWATER 23-350HYD is a powerful hydraulic cold water pressure cleaner. Small, compact and quiet, this machine runs off a 45cc motor, and has a flow rate of 23 liters per minute and a pump pressure of 5000PSI or 350BAR.

Built for heavy-duty industries such as drilling and construction, this machine is ideal for jobs for example, dust suppression, hydro demolition, drain cleaning and trenchless excavation. Because it runs off a hydraulic system, this pressure cleaner produces no exhaust or fumes for use in hazardous applications. 

Safety features include a washable filter, a water unloader valve with swivel and a thermal safety valve which dumps hot water if left running in the bypass too long. 

The SPITWATER 23-350 comes with a 10m high pressure hose, RL56 High pressure gun and lance and a single lance assembly with jet fan nozzle as included accessories. 
All pictures shown are for illustration purposes only. Actual product may vary. 
REQUEST QUOTE ►
CALL (08) 9270 0200 ►
Increased Machine Life, Higher Performance & Greater Reliability
Washable Filter stops Debris from Scoring Pistons and Seals
Triplex Ceramic Plunger Pump
Stainless Steel Valves deliver a longer life and better Performance
Low Speed Pump for Heavier use & a Longer Life
Improves the Life of your Machine and Increases Safety
The Cost effective, Low Maintenance Cleaning Solution
Heavy Duty Daily Use of 8+ Hours
To Easily Monitor Pump Performance
Features
Image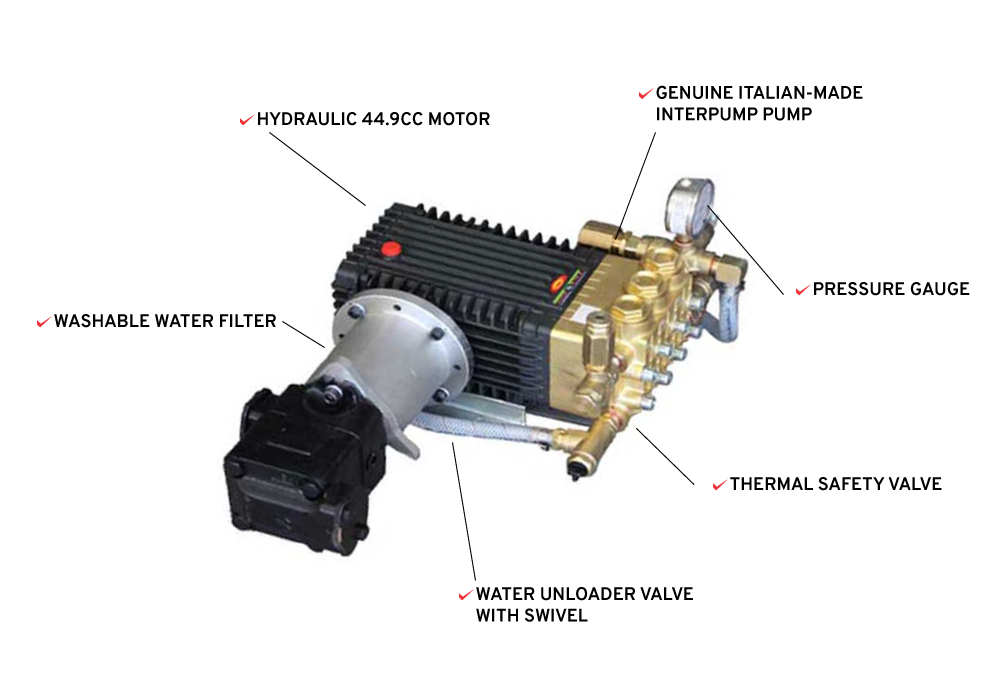 HIRE
BUY

This pressure cleaner is both available for purchase and as a long term hire. For more information on long term hire and its benefits, call us!
FEATURES
Featured
Genuine Italian-made Interpump Pump
Thermal Safety Valve
Pump Mount Supplied
Hydraulic 44.9cc Motor
Pressure Guage
Direct Drive
Washable Inlet Water Filter
Hydraulic pressure 2000PSI
Hydraulic Flow Requirements: 17.2 gal/min (65.1 l/min)
Actual products may differ slightly in appearance to images shown. The manufacturer reserves the right to modify design features and technical data without notice.
Download the Product Catalogue
Learn more about products and services that we have to offer.