Transport Industry Promotion
Thu, 10/10/2019 - 08:01
The OEM Group is always looking at new ways to assist our customers to become more effective and more efficient in their business operations.
We have a great range of products that can help them to achieve this outcome.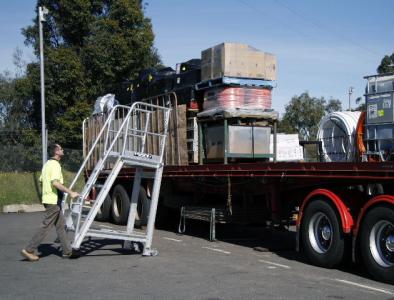 Spitwater Pressure Cleaners, Steprite Platform Ladders, Westchock Wheel Chocks
Each of these products has it's own unique application and market placement to help our clients, to save time and money – with special focus on safety and quality.
During October and November – OEM Group is running an excellent promotion to support the transport industry. As this industry is so diverse, we have targeted particular products to make an impact.
We have initiated some great specials and giveaways to encourage the customers, both new and existing in this market segment to make a purchasing decision and buy now!
1. Spitwater – High Pressure Cleaners.
Those customers that spend over $3000 on a new machine, will receive the following bonuses to make their purchase a good investment for the business.
a Free Mosmatic Swivel attachment – between the hose and gun, for easy movement and good cleaning efficiency – reduces the hose twists and tangles. This swivel is the best quality – you will be really happy you have one.
a Free foamer and 1 litre bottle – for the easy application of cleaning fluid.
a Free upgrade to a 20 metre hose.
 
We will swap your 8 metre or 10 metre hose to a longer one.
These extra inclusions have a value of over $500, so it's a great opportunity to buy now.
We have a great range of hot & cold high pressure cleaner machines – we are sure there is one for you, to satisfy all your requirements.
2. Steprite – Safety Access  Platform Ladders.
We are offering a once off special discount of 10% on our standard platform ladder range, for any business involved in the Transport Industry.
Our ladders are available in sizes from 500mm to 3000mm at 250mm increments.
You can be safe and know that you are using a substantial platform ladder product, that meets the required Australian Standards.
We also build special purpose – Custom Platforms / Walkways / Stairs for that project and/or situation that requires something more.
"Let us know what you need and we can construct it for you".
Be confident and have security that while performing your jobs, you have reduced the opportunity of fall risk.
"It's great peace of mind to feel safe at work".
3. Hurricane Pro – Wheel and Under-carriage Cleaner.
This is a great product, that we feel not many businesses in the Transport Industry have been exposed to?
It makes those jobs that are hard to get to - Easy. Let us help you and your cleaning work be more efficient.
Call us now to get a special price – you might be surprised at how inexpensive this product is. Considering the amount of time you will save and how good your vehicles will look!
Our main objective is to assist our customers needs as much as possible.
We believe our product range offered is as good or better than similar products in the marketplace, in terms of Performance, Quality and Value for money.
We can also guarantee that our current customers using our products can attest to this.
"We definitely look forward to being your Partner in Productivity''.